IF YOU THINK WASHING TENTS IS A LABORIOUS,
BACK BREAKING, TIME CONSUMING, COSTLY HEADACHE
OF AN OPERATION, YOU'RE RIGHT.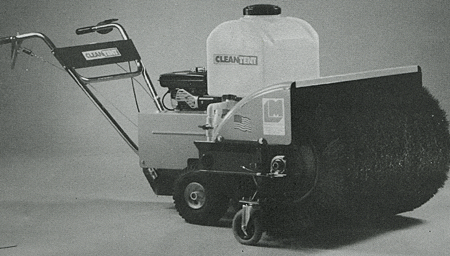 Now there's Clean Tent, a new, Motorized, Self-Propelled, Self- Contained, Tent Washer. The idea is simple; think of it as a one man operated tent scrubber. What used to take 4 men one hour to do can now be accomplished by one man in 15 minutes. Simply spread your tent out on a flat surface with a tarpaulin underneath it. Fill the chemical tank with Tent Brite detergent and proceed back and forth across a dry tent. The large brush will scrub the tent clean in short order. Then rinse tent and hang up to drip dry. Clean Tent will cut your labor cost of washing your tents by 80%.

Will not remove luster from tent
Performs better than hand washing
Increases the quality of the rental product and improves profits
Gasoline Powered
Easily Maneuverable
Non-Marking Tires
1 Year Warranty
GASOLINE POWERED $8,250.00
L & M Manufacturing Co., Inc., 212 White Rock Drive, Chapin SC 29036 Phone 803-781-0222 Fax 803-407-1671